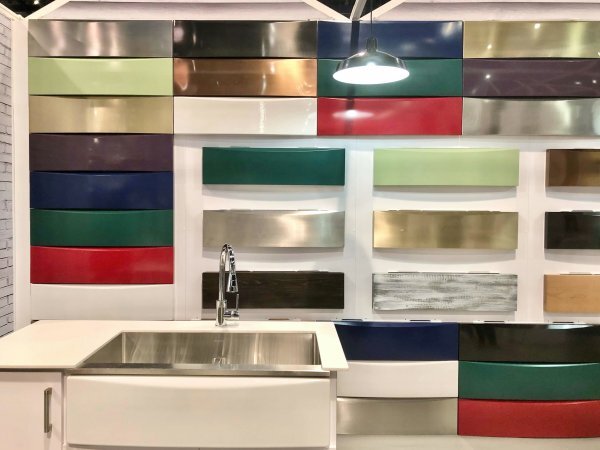 Elkay interchangeable apron front sink in various colors and finishes. #apronfrontsink #farmhousesink
I juuuuuust got back from KBIS 2020, the national kitchen and bath show in Vegas. Today, Im sharing a few of the fab new sinks I saw during the show.
Lets start with Elkay.
Elkay was celebrating its 100 year anniversary and had some new intros and prototypes they were showcasing this year.
This new color of mint green was added to their collection. #kitchensink
Colorful red sink from Elkay #kitchensink
Many people are tiring of white kitchens these days. If you need a spot of color, you might try this apron front variety from Elkay, below. They come in a variety of colors and finishes.
This might just be the one place to add some personality, without having to invest in a bigger way with colorful cabinetry or an expensive appliance.
Elkay interchangeable apron front sink in various colors and finishes. #apronfrontsink #farmhousesink
This sink below, incorporating accessible design, has a handy platform at the front of the sink. The rack can turn upside down to raise dishes, pots and pans up higher for more flexible use. Its shallow depth makes it accessible for wheelchairs underneath.
This is still in a prototype for now, but they were gathering feedback and information for some possible further improvements.
Elkay accessible design kitchen apron front sink
This beauty, below, is from The Galley. Its a complete kitchen workstation, including the dresser unit below.
The exquisite details of this piece make it perfect for a high end, luxury kitchen as it was displayed in the Monogram booth that was designed by Richard Anuszkiewicz.
The Galley kitchen workstation and dresser with exquisitely crafted details.
Kohler always presents interesting new products and these sinks. Although some here were introduced last year, they made for a good reminder of the breadth of this plumbing line.
Etched vessel sink from Kohler
Famstead sink from Kohler
The extra deep laundry sink looks so useful. You could even bathe a small pet in there!
The curved wall mount bath sink is a new intro that would be perfect for small bathrooms, much like the one I shared in this blogpost about my hotel room with the super narrow space in the bath.
Kohler extra deep utility sink, perfect for just about anything, even pets.
Nice to have some space to set items on the decked area of this wall mount sink.
This polished, apron front beauty is from Kallista. It just sparkles like a jewel here with a mirror-like finish.
Kallista apron front sink with a hammered mirror-like finish.
Lastly, Im sharing these beautiful Murano glass vessel sinks from Native Trails. Their unique finishes really stood out. These would really dress up a beautiful powder room.
Murano glass vessel sink by Native Trails
Murano glass vessel sink with an opaline look finish by Native Trails
Murano glass vessel sink with a wavy beige pattern by Native Trails
Stay tuned for more coming your way in the next few weeks, here on my blog.
If you are planning a remodel or are working on any kind of kitchen and bath design, you might want to check out some of my helpful links below.