We have carefully selected some incredible wines that say Passion! this Valentines Day. More than a jug of wine, a loaf of bread and thou! We think these wines will make your blood pump and your toes curl, of course it helps if you have someone special to share your passion with but we can only make suggestions on wine pairing with our personal recommendations, other pairings are up to you!
Happy Valentines Day!
Bench 1775
CABERNET SAUVIGNON2016

New Release!
The Cabernet Sauvignon is the worlds most popular red wine grape is a natural combination between Cabernet Franc and Sauvignon Blanc from Bordeaux, France.Cabernet Sauvignon is loved for its high concentration and age worthiness. One of the most demanding varieties to grow in the Okanagan, Cabernet Sauvignon needs long warm falls to fully ripen. The conditions in 2016 were perfect at our east facing Osoyoos vineyard and resulted in this wine with rich dark fruit flavours and firm smooth tannins.Our 2016 Cabernet Sauvignon wine is can be enjoyed with any BBQs or roast beast and winter root vegetables.
Drink your 2016 Cabernet Sauvignon wine now or cellar it for 10 years.
There are so many attributes of the Cabernet Sauvignon that makes us feel the Passion! in the wine. The description of the wine is intense andbring to mind all the attributes of a passionate lover, wine lover of course!
Blue Grouse Quill

The Quill label, introduced in 2014, allows our winemaker, Bailey Williamson, to express his talents. Sourcing some of the best grapes grown in British Columbia and blending them meticulously, Baileys mandate is make single varietal wines or blends that are distinctive. Our goal is to strike a balance between the high acid grapes from Vancouver Island and the more fruit-forward grapes from the Okanagan. Our guarantee is that Quill wines will be made in our winery from excellent grapes, with the same attention to detail and quality, as are our Estate wines.
Blue Grouse Wine Fan Club
Blue Grouse Estate Winery celebrates its loyal wine-lovers by offering the Blue Grouse Estate Winery Fan Club. This exclusive membership includes packages that arrive three times per year, to ensure members can enjoy their favourite Blue Grouse Estate wines throughout almost every season.
Multi-Level Memberships
Playing off the Blue Grouches nickname (given to past, present and future Blue Grouse owners), the three levels of the Wine Fan Club membership include: Grouchy, Grouchier and Grouchiest.
As a Wine Fan Club member, you will NOT pay any membership fees. Simply fill out your contact info and choose whether youre Grouchy, Grouchier or Grouchiest to start receiving wine at your home, or through pick-up at the winery.
By joining the Wine Fan Club, you are privy to specially reserved Blue Grouse Estate wines. If certain wine becomes sold-out to the public, you may still request these wines for purchase.
It gets better! If youre a Wine Fan Club pick-up member you (& guests) are invited to attend a pick-up party each time you grab your Fan Club wine (3X per year!)
Learn more about Blue Grouses Wine Fan Club on the website: https://www.bluegrouse.ca/Wine-Clubs
CedarCreek2016 Block 4 Pinot Noir
The Site
On the upper slopes of our CedarCreek Home Block Vineyard, the sandy loam soils in Block 4 provide excellent drainage. These 21-year-old vines work hard and dig deep to access water, forcing lower yields and increased concentration smaller berries, darker colour, and increased aging potential.
The Vintage
In 2016, the long, cool vintage meant more hang-time for developing complexity in the fruit. In the winery, this wine went through wild fermentation and wild malolactic fermentation. Its a powerful, structured Pinot Noir. Naturally farmed, wild fermented, bottled unfined and unfiltered.
What Wed Pair it With
Anything with bacon and mushrooms. Lighter meats like pork, veal. Cedar plank salmon.
Why we love it platinum that makes us definitely think of Passion! and maybe other Valentine moments like proposals? Were kind of thinking about the nature, structure and power of this incredible Pinot Noir.
Valentines Tasting for Two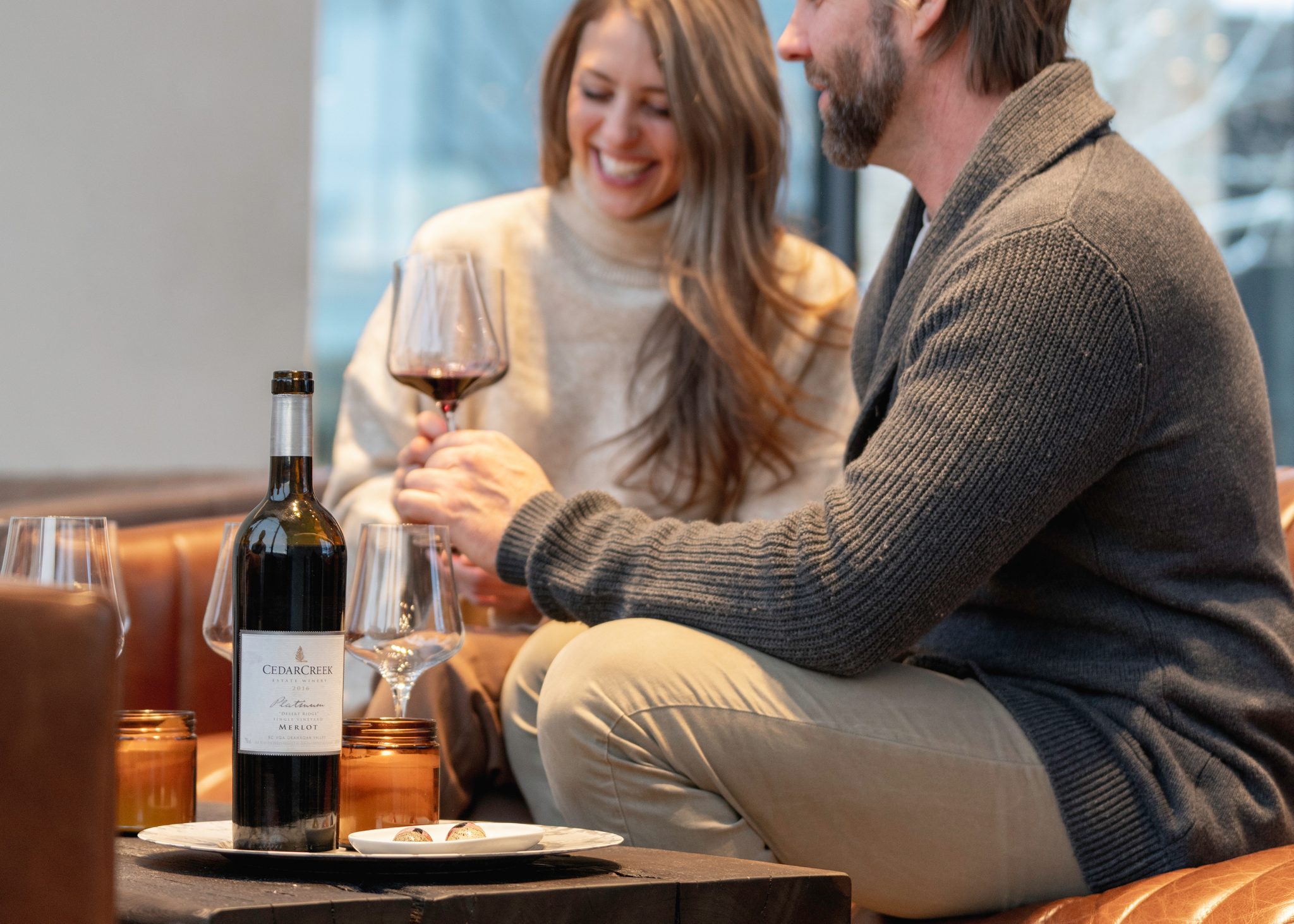 Celebrate with Someone Special
Celebrate Valentines Day with someone special at CedarCreek! This specially curated semi-private tasting features a selection of our Platinum Tier wines and artisan chocolates.
Now booking through February 17th. $57 per couple.
For reservations call 778-738-1027 or email tastingroom@nullcedarcreek.bc.ca
A Romantic Evening at Home Block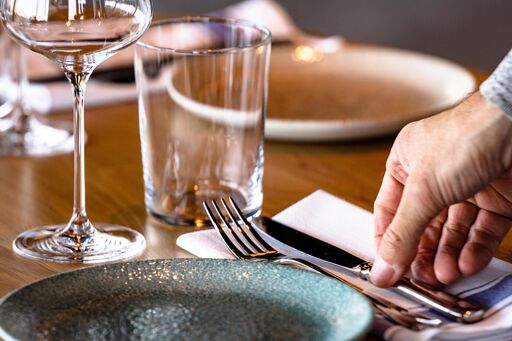 Celebrate Valentines Day with someone special at Home Block. Executive Chef Neil Taylor hasprepared a special4-course menu for the evening, with additional options to add selected wine pairings throughout, and to start with a 1/2 dozen fresh shucked oysters. Let us make this Valentines Day one to remember.
Friday, February 14
Home Block at CedarCreek Estate Winery
$100 per person (+ taxes and gratuity)
Menu available here
Add-ons:
Wine pairings $45
Oysters to start $24
Phone Home Block to book
250-980-4663
Clos du Soleil Estate Reserve Red 2015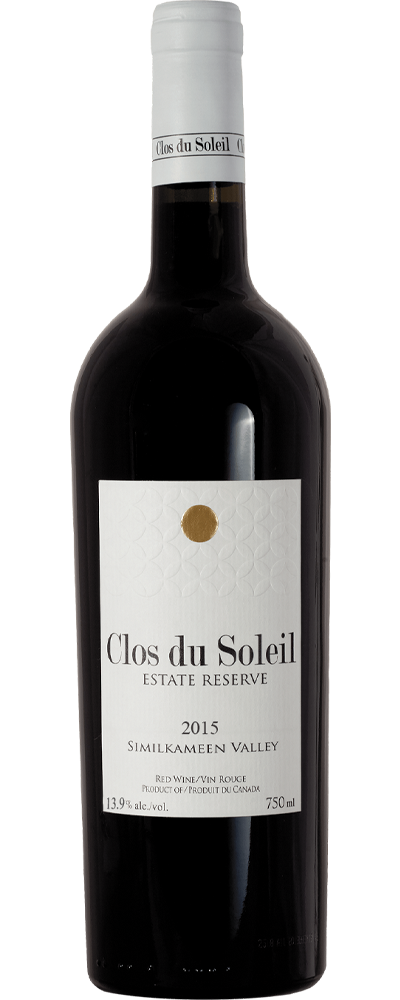 Passion for a Bold Red
We have a thing, a grand passion you could even call it, for bold reds Like the Clos du Soleil Estate Reserve Red 2015.
The pinnacle of the Clos du Soleil portfolio, this wine is designed to showcase the unique terroir of our Estate Vineyard on the Upper Bench of the Similkameen Valley. The 2015 vintage of our Estate Reserve wine is rich and expressive, with a layered complexity just like the love youre hoping to express this Valentines Day (only more so)!
This elegant wine, with its flavours of blackcurrant, raspberry, blackberry, liquorice and graphite, provides loads of pleasure now, but with the structure and density to last for many years. Can your love say the same?
Buy online: https://www.closdusoleil.ca/product/2015-estate-reserve-red
Buy in store: Clos du Soleil Estate Reserve Red is available at select stores. Contact wine@nullclosdusoleil.ca for more info.
We think there is nothing more passionate than complexity in both a partner and your wine. Estate Reserve winedefinitely brings out our Passion!
Dirty Laundry DangerousLiaison

Tasting Notes
Rich red fruits like plums & Bing cherries followed by sweet florals & a hint of sweetness on the finish.
Winemaker Notes
An approachable & fruit forward blend of Merlot & Malbec sourced from very hot sites in Osoyoos. 100% stainless steel fermentation allows for the most direct expression of ripe fruit flavours.
By its very name and nature it brings to mind our Passion! What could be better than forward and approachable in a wine and a partner?
Eau Vivre Pinot Noir 2018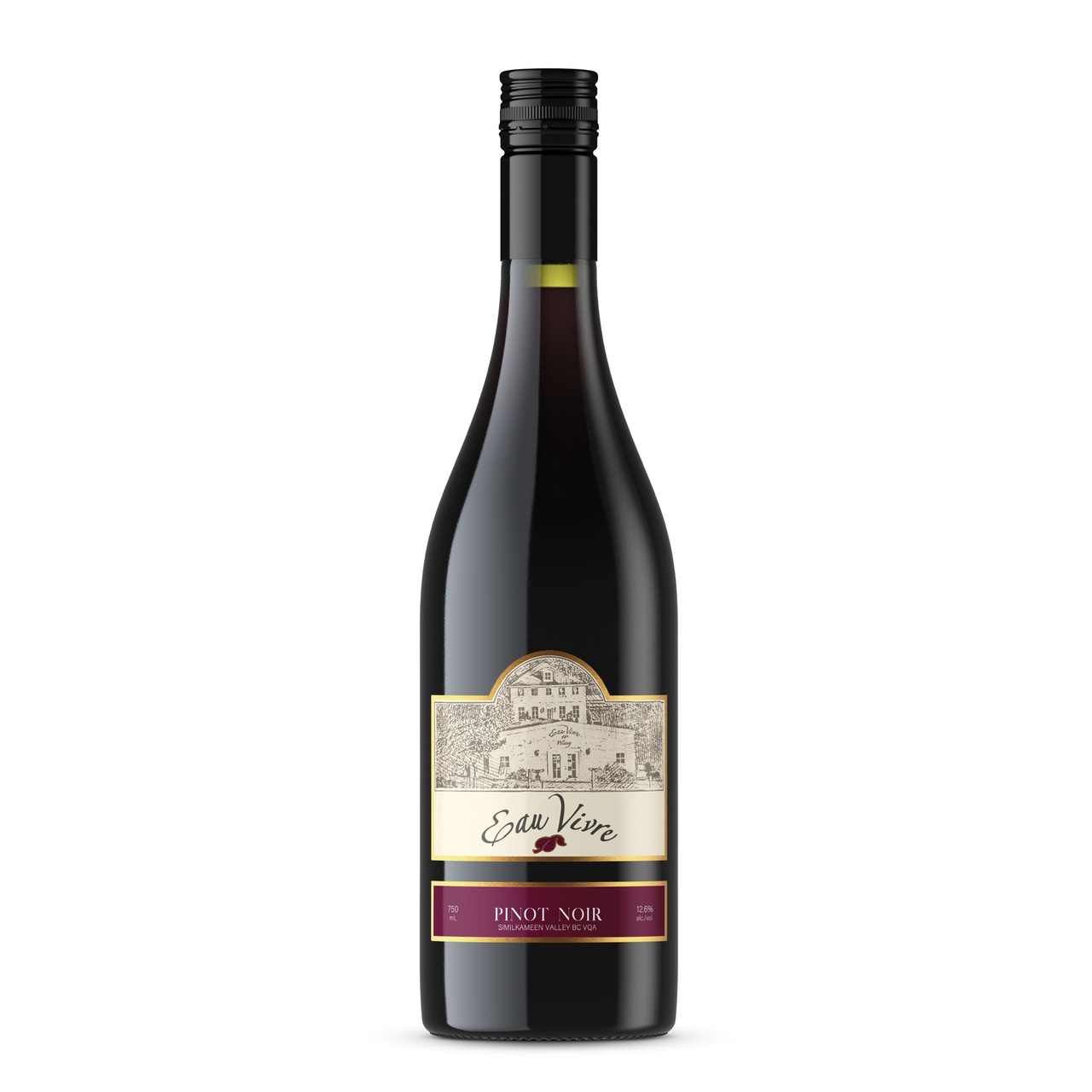 Black fruits, spice, liquorice and violets along with truffle, mushroom and smoke emanate from the glass. On the palate this juicy complex Pinot displays more red black fruits while being structurally balanced.
Everything dark and delicious in this wonderful Pinot Noir speak to our Passion! Who can resist all those earthy aromas mingling with spice and smoke? We love the complexity this Pinot shows.
Welcome to the Eau Vivre Wine Club.
This will be the simplest wine club in BC, no subscriptions necessary and we, at the wine shop, do not have to store your credit card numbers at all, making it extra safe for you to shop in confidence. We are using the highly acclaimed Stripe and / or PayPal on-line payment portal to securely manage all your purchases, one less headache for both of us!
We ship only twice a year before thanksgiving in late september and before easter in late march.
Our Wine Club Options 6 bottles or 12 bottles, no limit on how many you order. They can be red, white or half and half.
Now what you need to do is simple, pop over to our Purchase page and go through the Wine Club Options until you find ones you want, then purchase it through the store.
Sometimes there are no Wine Club Boxes visible on the Purchase page. If this happens there will be a different special offers available. Check the prices of the wines to see the specials. Unfortunately, extra discounts and free shipping are not available during special offers.
Have fun and enjoy the wines.
EVOLVE 2016 SHIRAZ

Every action you take has intention to accomplish, create, and grow. Like us, you strive to Evolve. With each step you take and for everything you try to achieve, we raise a glass to you. So raise a glass to yourself, of this Shiraz.
Aroma fruit (blackberry, plum) with pleasant toasty aromas and savoury floral notes
Taste full bodied with blackberry jam, blueberry, and gentle toasted oak
Eat a gooey, soft cheese or something off the Q with a peppery rub = a blissful pairing
Bliss and happiness set the stage for the Passion! of this jammy, tasty Shiraz. Raise your glass in celebration of how your relationship has evolved.
Every choice you make has intention to accomplish, create, and grow.
With Evolve Cellars, our intention is to craft friendly and approachable wines, providing a pure expression of the grapes grown by our south Okanagan grower partners. Fruit-forward with a bright freshness typical of the area, our wines are a celebration of this great region and how we can evolve together.
Celebrate your next step forward with the natural spirit of the Okanagan in every bottle of Evolve Cellars.

Lariana Fifteen 2015

63% Cabernet Sauvignon, 20% Syrah and 17% Carmnre
The blend is 63% Cabernet Sauvignon, 20% Syrah and 17% Carmnre. The wine was aged 18 months in French oak (35% new). This is a bold and generous wine. Aromas and flavours of dark fruit mingle with spice, fig, dark chocolate and tobacco. The wine has long, ripe and polished tannins. 94.
~ John Schreiner, author & wine critic
Were excited to announce we will be offering membership to our first ever wine club. There will be a limited number of members due to our very small annual production.
Member Benefits
First to know
First access to new releases
First access to library wines
Complimentary tasting for members and friends
Free shipping!
A play on words as each vintage is named for the year. We think thats pretty clever, but not as clever as the Valentine who knows a wine that brings Passion! to mind like this absolutely delicious blend.
Mayhem 2017 Merlot Cabernet Franc
75% Merlot/25% Cabernet Franc.
A portion of the Merlot was sourced from one of our home vineyards on Anarchist Mountain, Osoyoos BC, along with a grower vineyard in Oliver. The Cabernet Franc grapes were sourced from the Naramata Bench. Each variety was processed separately and aged in a combination of new and seasoned French oak for nine monthsbefore being married together in the final blend.
The nose reveals herbaceous notes of sage and eucalyptus, followed by hints of wet forest floor, leather and a medicinal quality. A baked cherry bouquet also shows through on the fruit forward palate with juicy red berries and plum. It finishes with a light hint of herbaceousness, integrated tannin structure, and a lingering finish.
Married together, blend, combined with the source of the merlot grapes and youve got a blend that speaks of Passion! Youll love the lingering finish that makes this wine a standout.
We would like to offer a promo order six bottles or more between now and Valentines and get free shipping. Use the code LOVE20 That way no one has to leave their house in the winter.
As well, keep the love going all year with a membership in our wine club!
CLUB MAYHEM
Club Mayhem is a great club, thats not really a club, its more a gathering of friends who love wine. Break all the rules!
NO FEES TO JOIN. PICK THE WINES YOU WANT. GET THE SHIP DATES YOU NEED.

Meyer Okanagan Valley Pinot Noir 2018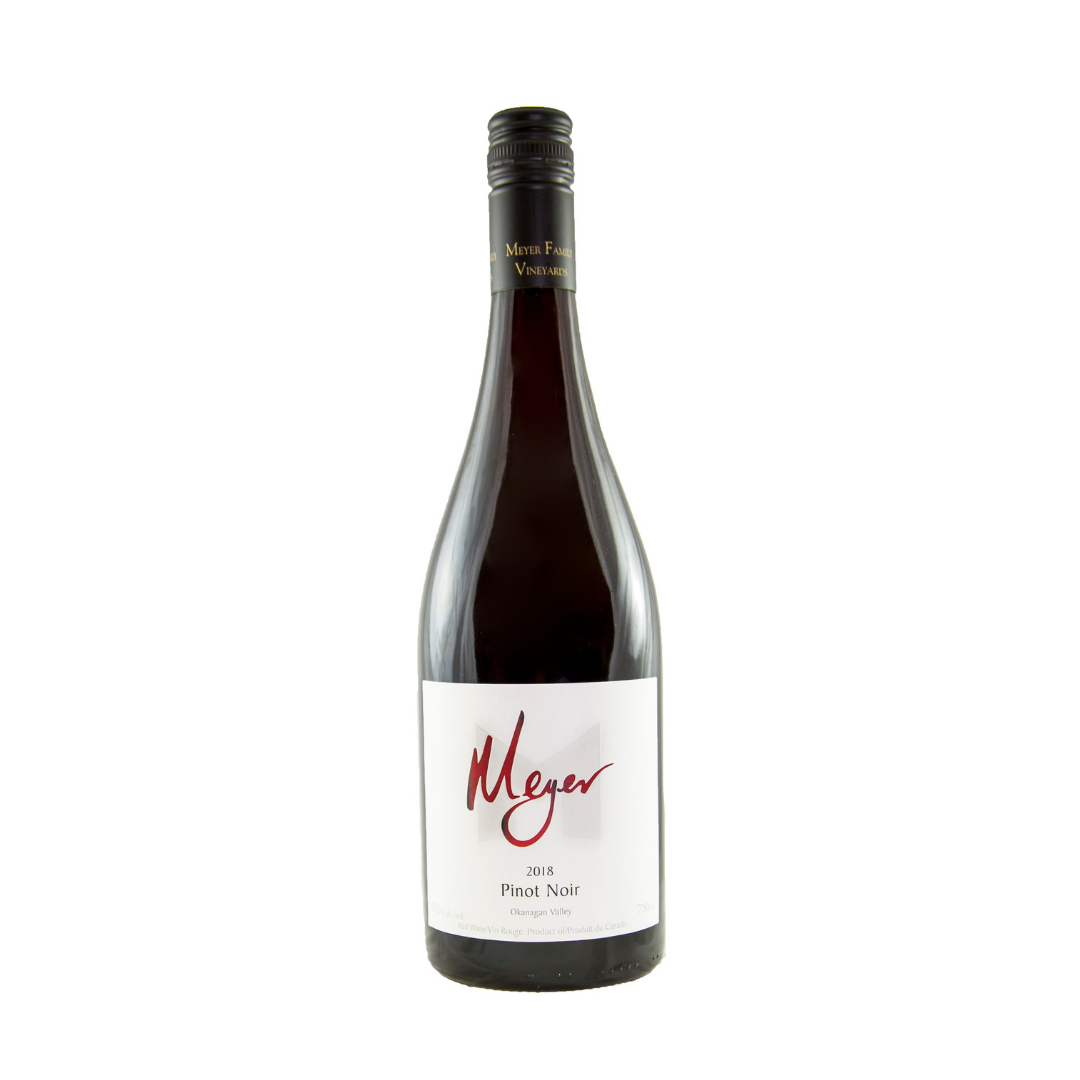 The fruit is sourced from six different vineyards in the Okanagan Valley. The combination of these different vineyards each having their own unique aspect, elevation and soils has produced a well-rounded Pinot Noir that showcases the Okanagan as a whole.
At the winery the fruit was gently de-stemmed via gravity into small open top fermenters and allowed to cold soak. After cold soaking, an indigenous ferment began lasting 18-28 days peaking at 30C; gentle hand plunging of the must was done throughout. After a post maceration period the wine was gently pressed and then spent eight months in 100% older seasoned French oak barrels.
In traditional FrenchBurgundian style we focus on small case lots of varietals best suited and expressive of their unique place of origin with an emphasis on Chardonnay and Pinot Noir. We produce about 8,000 cases and strive to produce the finest wines possible. Our wines are hand harvested and hand crafted and we take great pride in each bottle of wine with great attention to detail. We hope that you enjoy our wines as much as we enjoy making them!
Is there anything more passionate than a gentle hand? This yummy and very affordable Pinot Noir is a real treat. Forget the chocolates and pamper your Valentine with a Pinot Noir that exudes Passion!
Mission Hill 2017 RESERVE PINOT NOIR

An Uncompromising Expression of the Okanagan Valley.
VINTAGE REPORT The 2017 harvest, lasting 66 days, was one of extremes. The harvest started later than anticipated, with a cool, wet spring. However, a record-breaking dry spell followed in July and August, with temperatures well above seasonal norms. This warm, dry summer resulted in a crop of small, concentrated berries that should produce wines of exceptional depth and intensity. The harvest concluded on October 30, yielding a crop reminiscent of the incredible 2009 vintage.
WINEMAKER NOTES Our 2017 Reserve Pinot Noir was farmed from two of our estate vineyards Lakeshore and Naramata. The Lakeshore Vineyard in East Kelowna, first planted in 1994, is on a steep hillside that enjoys the lakes moderating influence and is ideally suited for this varietal. Naramata Ranch is a winemakers dream with undulating elevations, multiple soil types and clones to select from, individualized blocks, and spectacular views.
TASTING NOTES A charming classic, our Reserve Pinot Noir delights with layers of red fruit and brambleberry. Delicate tannins, savoury notes and a subtle hint of herbal spice deliver a complex wine that is sure to enchant.
VARIETAL | 100% Pinot Noir
Also anuncompromising expression of Passion! in every bottle of this delightful Pinot Noir. We love a wine with delicate tanninsthat is savoury and spicy with good complexity. We love a partner who is a complex personality; still waters run deep!
Noble Ridge 2016 Kings Ransom Pinot Noir

TASTING NOTES
Dark Cherry, ripe plum and violet notes are highlighted by subtle earthy undertones. 14 months spent in French oak barrels enhances complex notes of ripe black cherry and spices on the palate. This bold Pinot Noir is rich with structure and tannin. It will age gracefully for 8-10 years.
FOOD PAIRING
Barbecued pork tenderloin, brisket, ribs, grilled Portobello mushroom
There has been a lot of buzz lately about Royals and you must forgive us if we think that commoners are a Passion! group. So drag out your royal duds and crowns and express your Passion! like a King.
Noble Ridge is an estate vineyard and winery located in the Okanagan Valley. All work is done by hand, on-site by a team of dedicated workers who strive to create exceptional wine that reflects its noble namesake.
Serendipity Next Step

Aged 4 years in French & American oak, this Merlot, Cab Franc & Pinot Noir blend has great notes of cocoa, dried black figs and toffee. It is an easy drinking big red wine with flavours of dark cherry, baked plum, red licorice, cardamom and blueberry.
With so many people getting engaged around Valentines day, what better wine to celebrate the next step in your relationship than one literally called Next Step Katie OKell, winemaker
We couldnt agree more Katie, this one has Passion! written all over it. All those dark yummy flavours definitely speaks to the season of love, romance, passion and engagement!
Singletree 2016 Merlot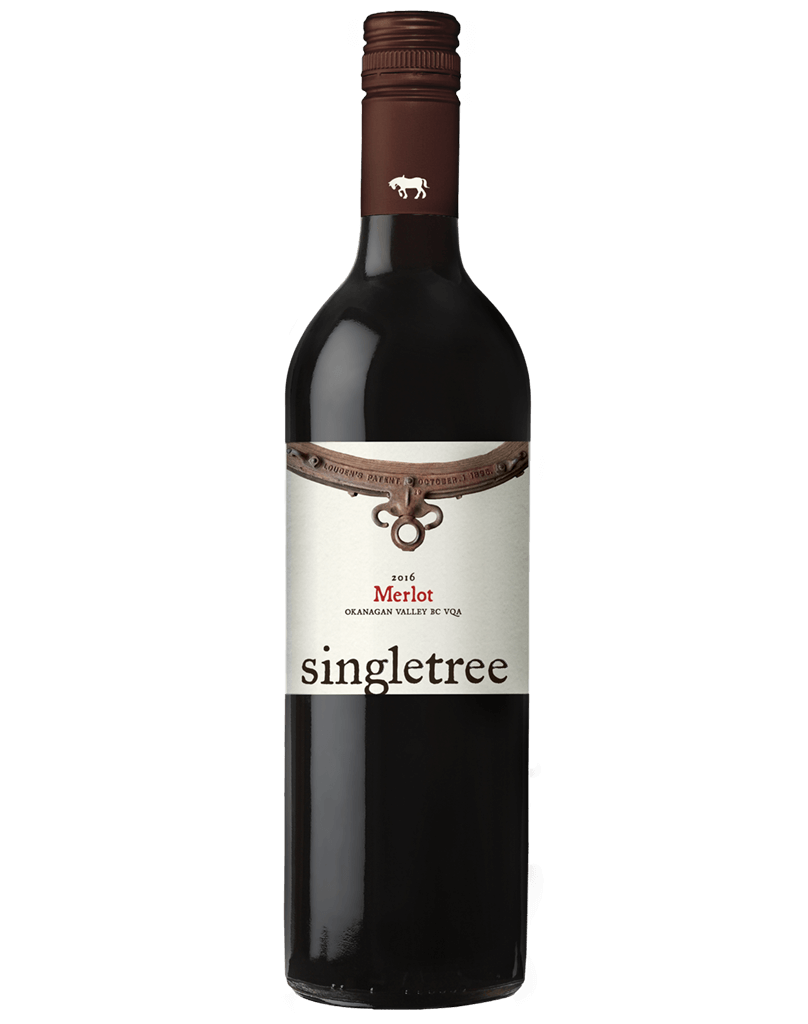 Tasting Notes: Out debut release of Merlot from the acclaimed Naramata bench is a show stopper. A lush, full-bodied Merlot with dark berry fruits, lively freshness and a silky tannin structure.
Winemaking: 18 months of barrel aging rounds out the tannins and flavours.
100% Merlot
Despite the mad ramblings of Miles we disagree with his analogy of this noble grape. It really does exude Passion! just by its very nature. Silky, lush, fresh, and full bodied goodness.
Tantalus 2017 Pinot Noir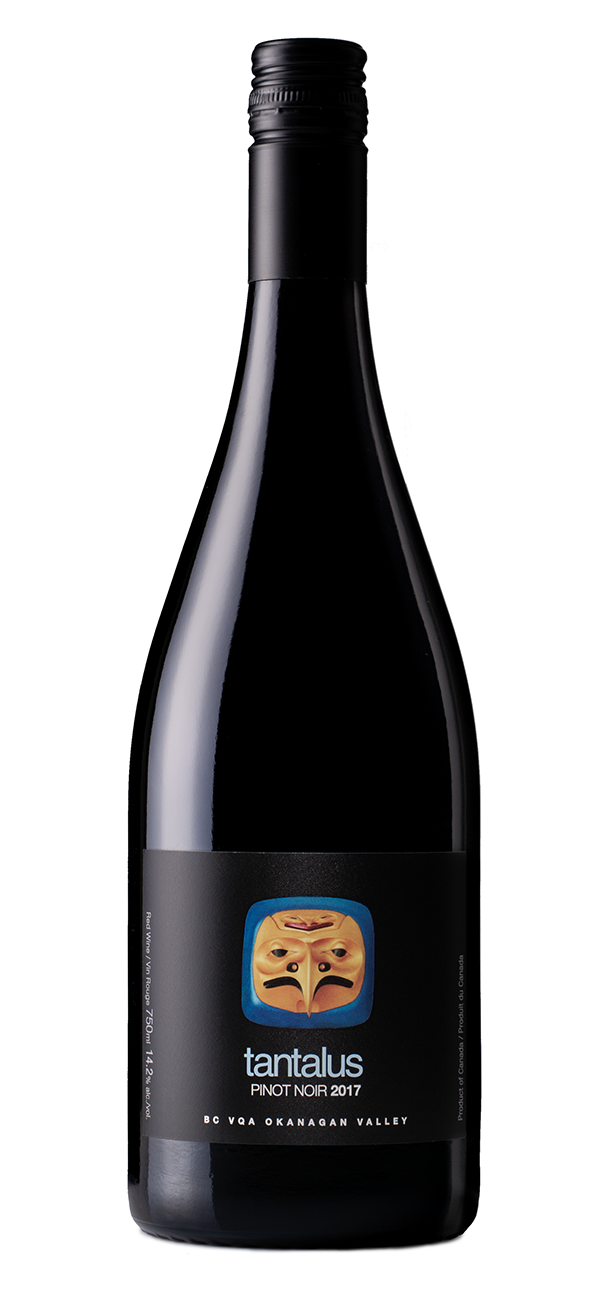 tasting Notes:
Each vintage, our flagship Pinot Noir most beautifully captures the evolving maturity of ourvineyard; offering us a wonderfully natural expression of our unique terroir in SoutheastKelowna. Aromas of crushed fresh raspberries, violets and sage, with Bing cherry, bakingspices and a hint of cedar emerging.
The palate is lush and shows great tension between acidity and tannin, hallmarks of anageable Pinot Noir. Flavours of black and blueberry with an intriguing orange rind nuance,lifted by notes of white-fleshed cherry and plum. A nervy vein of minerality stretches thewines finish and adds to the lively structure and integrated oak.
Winemakers Notes:
Crafted from multiple clones and all sourced from our single vineyard estate, select PinotNoir blocks were handpicked and vinified in small lots using 100% wild fermentation. Thesmall batches were then racked into a selection of new (25%) and seasoned French oakbarriques for 16 months and blended, unfined and unfiltered, just prior to bottling.
Although enjoyed in its youth we see this wine aging gracefully over the next 7 to 10years.
vintage Notes:
After a cold winter with high snowfall, the growing season got off to a slower start comparedto seasonal averages. True bud break took place during the first week of May;slightly later than seasonal averages. In contrast, the summer was hotter than averageand sunny days made up for the late spring.
Although smoke haze from regional fires was present during parts of summer, it actuallymitigated hot temperatures. The result was a slowing of the ripening phase, preventingsugar from accumulating too quickly over such a hot period. Smoke taint was a concernfor some areas of the valley, however, we saw no influence on our wines. Overall our cropwas slightly lower than average, leading to beautifully concentrated wines with greatpedigree and ageability.
Varietal: 100% Pinot Noir
This Kelowna Pinot Noir is sure to please even the mostdiscriminating. Were glad this Pinot Noir was and is anything but average. Thoughts of a smoky haze, followed by a slow phase andending in heatcertainly stimulates our Passion!
TIME Fourth Dimension

VINEYARDS
Haynes Creek (Osoyoos), Snowbrush (Oliver), Desert Valley (Oliver), Desert Valley (Osoyoos)
WINEMAKING
The fruit for this blend was hand harvest from vineyards in the South Okanagan. At the winery we sorted the grapes then gently destemmed and crushed the fruit before fermentation. The grapes stayed on the skins in tank for 3 weeks before pressing. The wine was aged for 16 months in new and neutral French oak barrels. Ready to enjoy now, this wine will age gracefully for 7-10 years.
TASTING NOTES
Albert Einstein famously characterised time as the fourth dimension. In tribute to this is a blend of four varieties: Merlot, Syrah, Cabernet Franc, and Cabernet Sauvignon, with appealing notes of cherry, raspberry, red fruit, black pepper and delicate spice notes. Soft and smooth with great balance, this boldly flavoured and juicy blend is a crowd pleaser, ready to enjoy with friends and family anyTIME.
Who would argue with Albert Einstein? He certainly had his own style of Passion! Personally we prefer to partake of this beautiful red blend for our Passion!education and enjoyment.
TIME Winery is committed to creating wines that express the unique flavours of Okanagan wine country. Located in the former PenMar movie theatre; TIME Winery is a state-of the art downtown winery. The entire TIME Winery team has worked to ensure that the new crush pad, barrel cellar, custom fermentation hall, and onsite lab were built to ensure only the best quality wine, vintage after vintage.
The winemaking team invites you to visit TIME Winery for a firsthand tour and sip the latest vintages, which offer flavours of the surrounding Okanagan wine country, while you explore the inner workings of a fully-functional winery. Complete the experience at the tasting bar and lounge, or with your guests on the patio. TIME Winerys full kitchen and event space provide a unique venue for your next public or private event.

Vanessa 2014 Meritage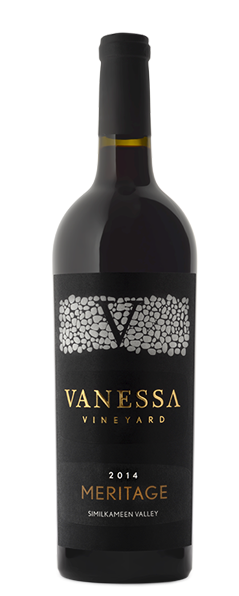 Carved from stone, fuelled by sun, a vineyard like no other
Vanessa Vineyard is located in one of the finest wine regions in Canada and is dedicated to producing wine that is true to the heritage of its terroir. Situated on the hillside overlooking the Similkameen Valley, Vanessa Vineyard grows its grapes on 75 acres of sloping, well drained rocky terrain. The vines grow in rows of rock, stressing the plants while absorbing the day heat and imparting that warmth during the cooler nights, contributing to the grapes unique character.
Winner of Double Gold at the Wine Press Northwest wine competition 2019
Wines from the Similkameen Valley are the product of a rugged, almost harshenvironment that requires Passion! to bring these wonderful wines to fruition. You might think of Similkameen wines as challenging and what shows Passion! more than a challenge?
The View Pinotage Reserve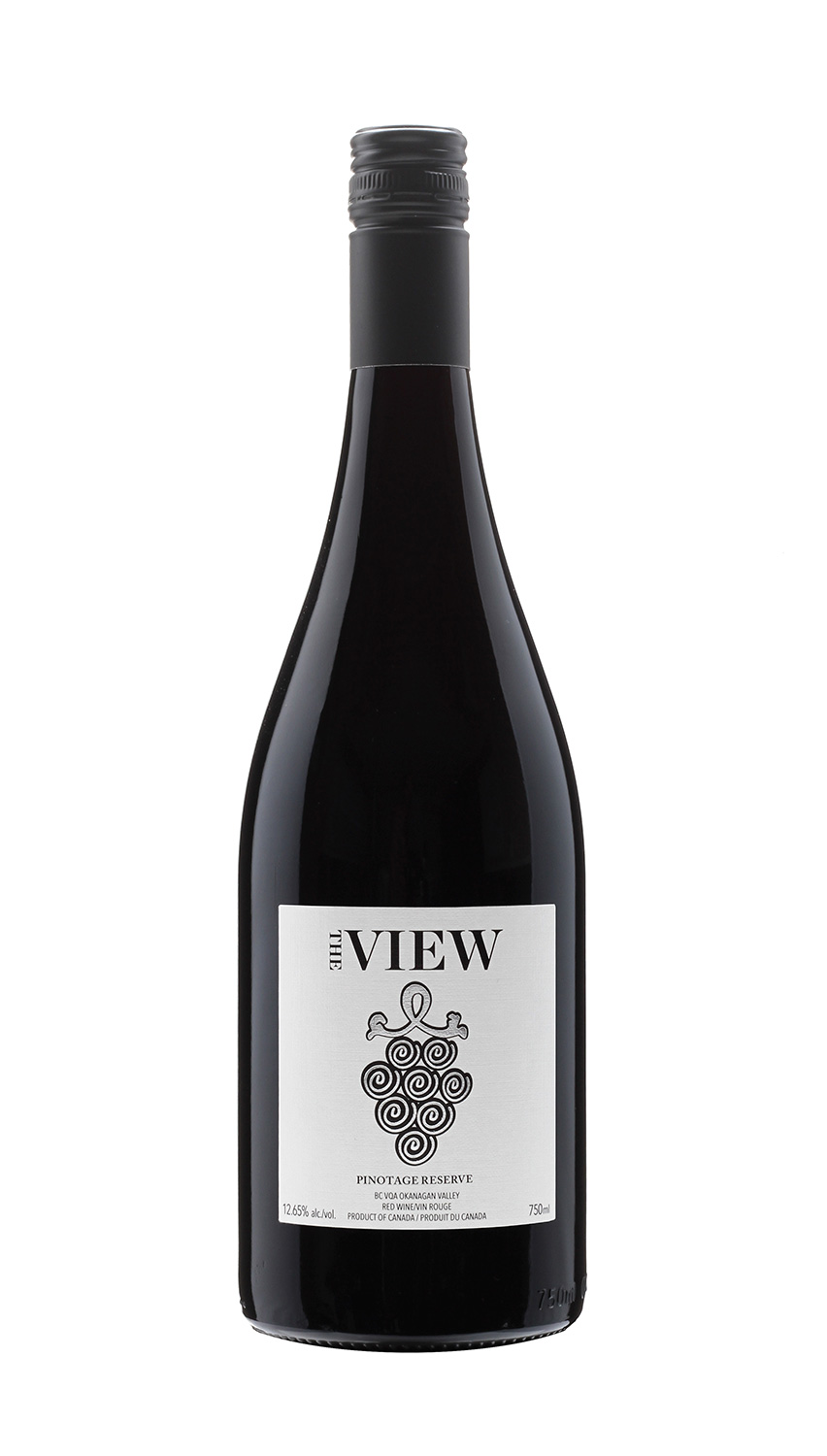 Our signature red is elegant and earthy with a hint of smokiness.
Originating in South Africa, Pinotage is a cross between the silky Pinot Noir and the aromatic Cinsaut grape. Our 2017 Pinotage Reserve has an elegant nose with vibrant aromas of dark cherry and spice. Juicy dark berry flavours are balanced by a lovely acidity and seamless tannins.
Pairing: Pairs well with a rack of lamb, roast beef and Portobello mushrooms as well as zesty pastas, smoked cheddar and rich, dark chocolate.
What says Passion! more than silky and aromatic, include dark chocolate and wow! We love this elegant wine described as vibrant and balanced. A terrific choice for your Valentine.
Wine Your Valentine will take place Friday February 14th. Start your romantic evening off with a visit to The View anytime between the hours of 5:00-8:00 pm. We will be featuring wine and small bites food pairings in our cellar and barrel room, all set to the beautiful sounds of live acoustic guitar. Cost is $25 at the door and includes a gift as well as discounts on wine and cider purchases.

Hidden Corner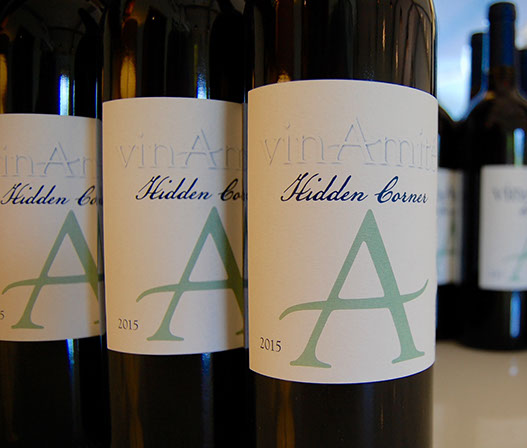 The marriage of fresh fruit-forward aromas come first followed by the flavours of blackberries and blueberry jam, while a gentle blend of vanilla and chocolate leaves you wanting more. Earthy yet soft, elegant, intimate and adventurous. This wine is crafted for those occasions when you can devote your full attention to the beauty of a select red blend in your own hidden corner.
34% Cab Sauv, 34% Merlot, 14% Malbec, 12% Cab Franc, 8% Petit Verdot.
Did someone say marriage? Oh that makes our Passion! come to the fore. No question you will be wanting more when your evening includes Hidden Corner. Well leave the rules of the game to you, just make sure you play with Passion!
Were launching a new experience at the winery this Valentines Day.
Six curated cheese crostinis with accoutrements perfectly paired with six two ounce vinAmit wines to demonstrate the sensory concept that 1+1=3. Treat your tastebuds to a delicious, informative way to heighten your senses!
Friday the 14th through Sunday the 16th. 11am-5pm
Regular Pricing: $35.00 Wine Club: $30.00
Reservations needed as we have Limited space. Please call 250-498-2234 or 250-535-1323. You can also reserve by EMAIL
Bottle shots and tasting notes courtesy of the wineries. Comments in italics are my opinions. Please note that Lariana is on a hiatus and orders may be delayed temporarily.
Something is wrong.

Instagram token error.
Read Passion! What could be better to fuel your passion than BC Wine at MyVanCity